---
Leiden Muscular Dystrophy pages©
Images of cDNA hybridisations
(last modified October, 2006)
---
These pages show images of Southern blots of a human genomic DNA digested with HindIII or BglII after hybridisation with a series of DMD cDNA's, together spanning the entire DMD coding region. Images were kindly provided by Sander Kneppers and ... (Human and Clinical Genetics, Leiden University Medical Center, LEIDEN, Nederland).
---
Contents
For origin and content of the cDNA-probes see DMD cDNA probes.
---
cDNA XJ10:
---
Legend:
Southern blot of a human genomic DNA digested with HindIII (left) or BglII (right). Fragment numbers are+ indicated on the left of each panel, the exon number and the size of the fragment (in bp) on the right. 1+2 = two exons located on one fragment, 1a / 1b = the two halves of an exon digested by the restriction enzyme used, (1a - 1,174) = a fragment hybridising very weekly (might not be visible), * = a polymorphism has been reported for this band (see The DMD cDNA in relation to the gene).
---
cDNA 30-2: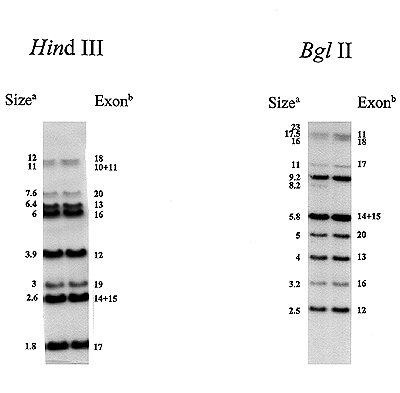 ---
cDNA 30-1: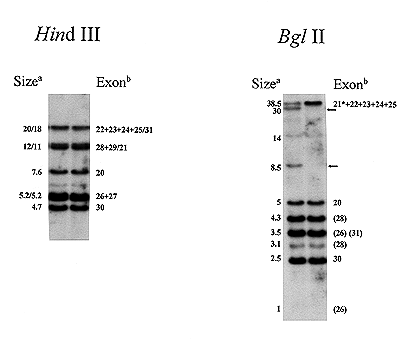 ---
cDNA 47-4: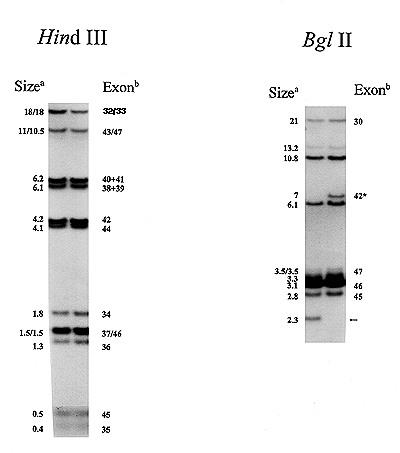 ---
cDNA 7b8: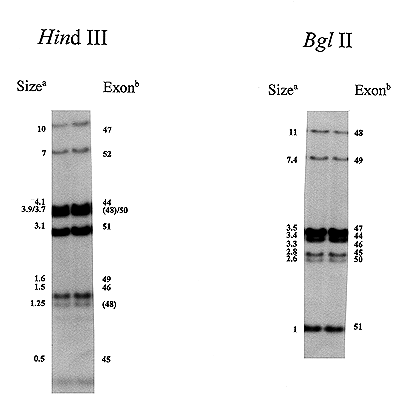 ---
cDNA 63-1/1+2: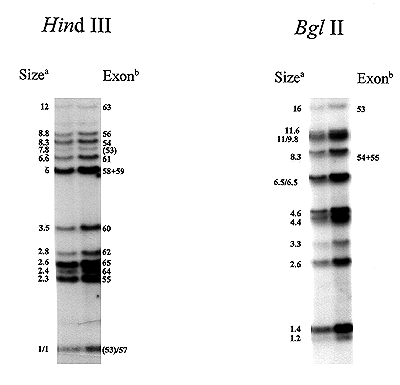 ---
cDNA 63-1/3+4: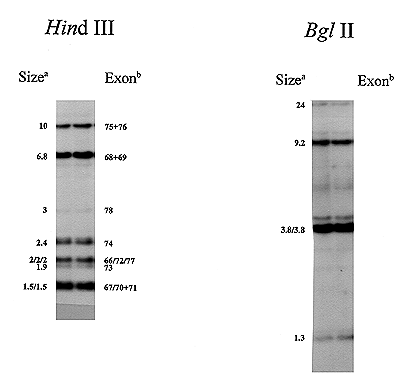 ---
cDNA 63-1/e: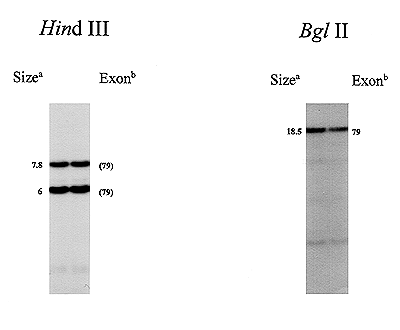 ---
---
---
| Top of page | LMDp home page |
| Remarks / information | Copyright©, liability |
---
---